The proposed AirTrain LGA would provide a reliable, 30-min travel time from Midtown
Access is a key component of any world-class airport. Yet access to LaGuardia is a serious challenge with no direct rail link – the only major East Coast airport lacking one – and travel times by car are only getting worse. The proposed AirTrain project would provide a convenient, easy-to-use rail connection that offers travelers and employees reliable, predictable travel times to LaGuardia Airport. The Port Authority's preferred alternative would have two on-airport stations and would include critical connections to the Long Island Rail Road and the New York City Subway, to provide a 30-minute ride from Midtown Manhattan.
September 21, 2020: Rick Cotton, Executive Director of The Port Authority of NY & NJ held a special briefing about AirTrain LGA for the Association for a Better New York.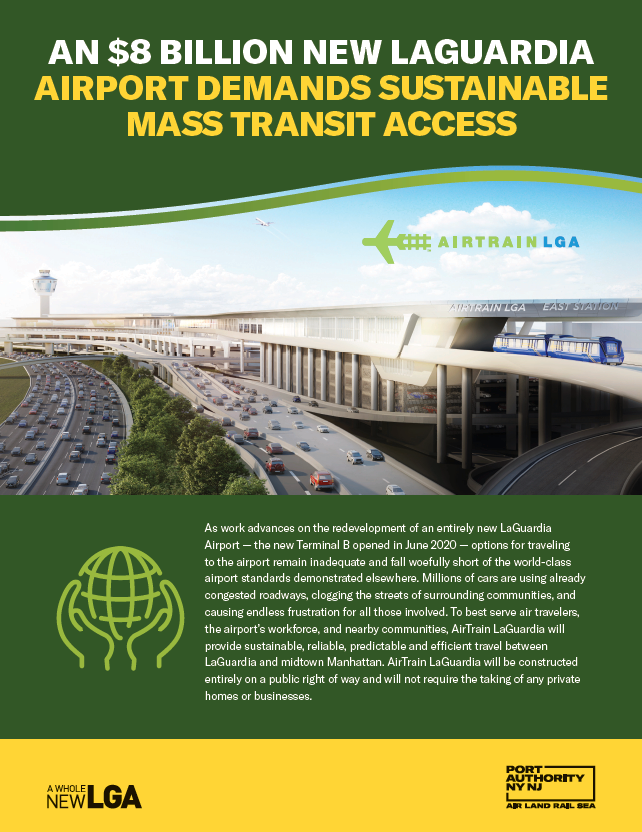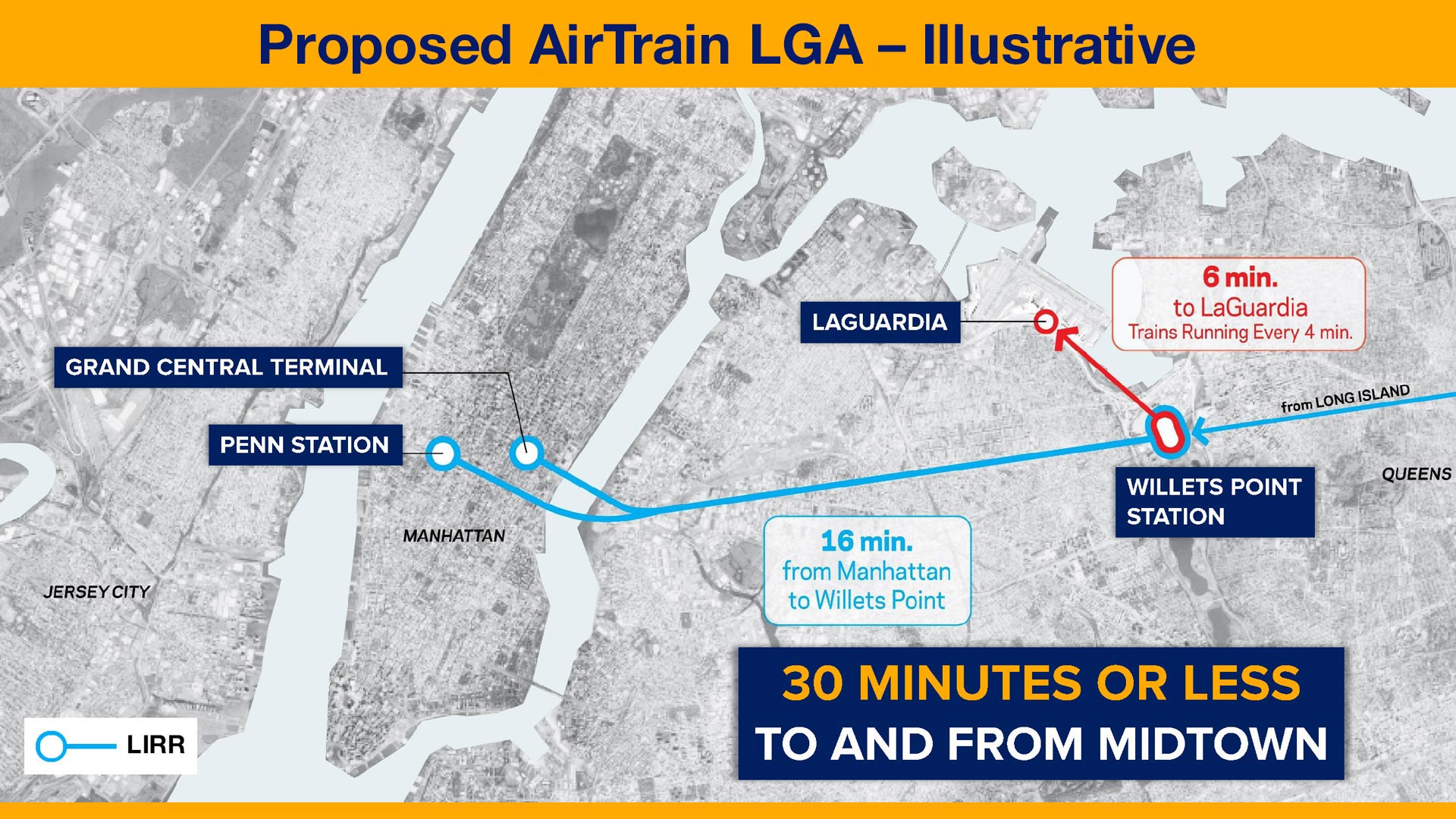 The Need
Travel to and from LaGuardia Airport is unpredictable and the situation is getting worse. Reliable mass transit options do not currently exist, leaving customers and employees vulnerable to heavy roadway traffic congestion.
Today, LGA passengers and employees depend on roadway-based vehicles for their trip to the airport. Nearly 90% of passengers arrive to the airport by private vehicle
50% of LGA passengers are coming from or going to Manhattan; with more than 25% of all LGA passengers coming from or going to Midtown
A mere 6% of LGA passengers take public transit in the form of one of five bus routes, none of which are direct from Midtown
Congestion in the NYC region has increased and airport travelers have had to adjust travel patterns accordingly by allotting greater time for their trip
With only roadway connections to LGA, access is dependent on unreliable traffic conditions
Vehicular travel times between Midtown Manhattan and LGA vary greatly by day, with four-year taxi travel time data showing that travel times generally ranged between 35-80 minutes
Travel time has increased from year to year, a trend that is expected to continue
As one example of recent trends, the number of extreme travel days (when at least one trip took 70 minutes or more) from LGA to Times Square increased from 21 in 2014 to 114 in 2017 (more than five-fold increase)
Proposed solution
The proposed AirTrain LGA would provide convenient, predictable, and reliable access to LGA for its customers and employees that complements existing mass transit services and does not contribute to roadway congestion